As a leading provider of innovative care-at-home software, Delta Health Technologies® is committed to helping care-at-home providers operate more smoothly and efficiently. Our CrescendoConnect app is designed to help home health, hospice, and private duty home care providers facilitate communications between caregivers, physicians, patients, and families; leading to better patient outcomes, improved quality of care, and cost reduction.
Features include Electronic Visit Verification (EVV) through GPS-based visit verification; secure communications for better coordination of care and communications between healthcare professionals, patients, and families; and collaborative care with physicians, caregivers, families, and others.
CrescendoConnect is integrated with our Crescendo EMR and may be accessed via smartphones and mobile devices.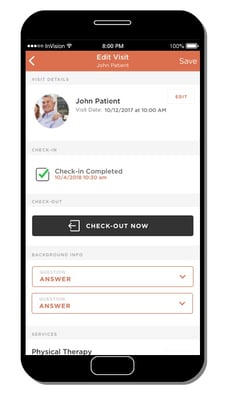 Electronic Visit Verification
Caregivers to clock in and out using their smartphones

Clock in and out is delivered and controlled by access and distance to the client's home

Review and documentation of tasks for that appointment's care plan

View of upcoming schedules

Review appointment information in advance
Secure Communications
Provides HIPAA compliant secure messaging between disciplines, staff, and the patient for better coordination of care

Share wound photos and applicable documents via our secure messaging app

Patient-related secure messages may be included as part of the patient's clinical record in Delta's Crescendo EMR

Compliant with Home Health Conditions of Participation (CoP) and HIPAA regulations
Additional Care Coordination Features
Ability for physicians to view and sign orders

Allows patients to view their upcoming scheduled visits, current medications, nursing documentation, and physician orders
Delta has been the most prolific care-at-home technology partner dedicated to your mission of caring for patients wherever they call home for almost 50 years. The strength of success is rooted in building trusted partnerships that last four times longer than the industry average. We provide customers with a reliable foundation for success delivering extraordinary patient-centered care by using Delta's Crescendo software solution for home health, hospice, and private duty home care providers.
See the Delta Difference! Request a demo of Crescendo today.