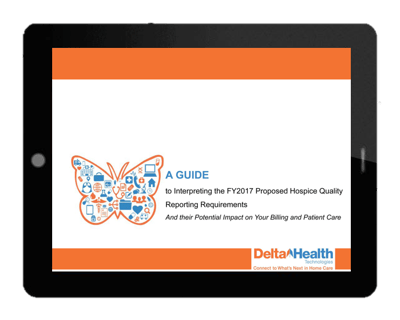 We understand that overseeing your patients' day-to-day comprehensive care is exhausting and time-intensive.
At Delta Health Technologies, we understand that your time is limited, and that's why we've created a condensed e-book that provides essential information on the proposed industry regulations for FY2017.
This eBook concisely addresses CMS' latest proposed Hospice regulations, and includes the potential impact of these changes on Hospice operations and policies. The eBook is broken down into the following five sections:
A brief outline of the current regulatory landscape
Trends in Hospice utilization
Next steps in the evolution of the Hospice Quality Reporting Program (HQRP)
CMS' plans for public reporting of Hospice quality data
How to apply these regulatory guidelines to your current policies, and practical suggestions to help prepare your billing and clinical staff for the proposed regulations
Click on the below link to download our complimentary e-book.