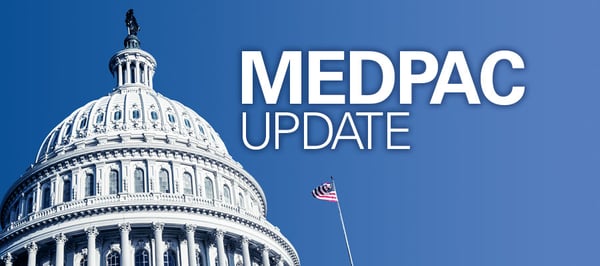 Last Friday, the Medicare Payment Advisory Commission (MedPAC) convened for presentations and discussions regarding the Medicare hospice and home health benefits. The commission was presented information on current payment adequacy based on data from years past and suggestions from MedPAC staff for recommendations the committee will make to Congress for 2020.
Hospice
MedPAC reported in 2017, approximately 1.5 million Medicare beneficiaries received hospice care, accounting for over 50% of decedents. There were nearly 4,500 Medicare certified providers receiving a total of $17.9 billion in reimbursements. The average length of stay (ALOS) varied depending on condition.
Average profit margins in 2016 were 10.9 percent, up from 9.9 percent in 2015. Freestanding, for-profit, and urban hospices generally averaged higher margins than rural, non-profit, home health and hospital-based settings.
MedPAC staff concluded that (based on hospice cost report data) payment rates by level of care are out of balance with reported costs. As such, MedPAC may consider recommending rebalancing in the future. The share of hospices exceeding the aggregate cap has increased, as have the margins for over-cap providers. For the first time, data indicates that financial margins for over-cap providers continues to exceed the margins of non-cap hospices even after overpayments have been reconciled. The presentation concluded with consideration of a staff proposal to recommend that Congress enact legislation to reduce the FY2020 base payment rates by 2 percent. The commission will finalize this recommendation at its January meeting.
Home Health
MedPAC reported in 2017, Medicare home health expenditures totaled $17.7 billion to approximately 11,800 certified home health agencies. 6.3 million episodes were provided to 3.4 million fee-for-service beneficiaries. Staff found the supply of providers to be high, as 84 percent of beneficiaries have access to at least five home health providers, and 97 percent have access to at least one provider.
Average profit margins came in at 15.2 percent in 2017. This is consistent with 15.5 percent in 2016, and 15.6 percent in 2015. Staff discussed rebasing that occurred in 2014 - 2017, as mandated by the Affordable Care Act, stating that it was not effective enough. Profit margin data was cited as evidence for their suggested recommendation of a five percent rate cut to take effect in 2020.
In the discussion following the staff presentation multiple commissioners advocated for improving coordination between home health providers and physicians, and for better integration for home health in the care continuum. On the subject of the five percent rate reduction, all commissioners speaking approved the proposal, with one suggesting five percent as a minimum.
This recommendation from MedPAC has been consistent for several years in a row with Congress never acting on it. This is likely the result of advocates within the industry relentlessly weighing in with their members of Congress on the value of home care, and that average profit margin is a limited look at the challenges providers face.