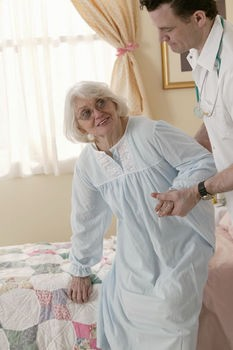 Noting that nursing ranks fifth in the nation among all occupations for musculoskeletal problems, the
American Nurses Association
(ANA) is calling for passage of a recently introduced bill in Congress that requires health care employers to significantly minimize or eliminate the manual lifting of patients.
Manual lifting, transferring and repositioning of patients not only leads to lost work days because of injuries but also can compromise the safety of patients, according to the bill and many national patient-safety organizations, including the ANA.
Under the
bill
, employers would have to develop and implement safety patient handling, mobility and injury-prevention programs; purchase and maintain technology and equipment to facilitate safe patient handling; and include health care workers in developing their programs, among other requirements.
As readers of
Environment of Care Leader
and
Inside the Joint Commission
know, safe-patient handling continues to be a concern for the health care industry as well as the Occupational Safety and Health Administration (OSHA), which would be tasked with developing the standard if the legislation is passed.
Currently,
safe-patient handling is enforced
under the General Duty Clause of the Occupational Safety and Health Act (the act that established OSHA). The clause requires all employers to provide a safe workpace.